Large Prints, Displays and Banners
When quality matters for your large format prints, banners and displays, trust Taylor Photo
At Taylor Photo, we handle large format printing for some of the most distinguished clients in the business. We've specialized in large-format digital printing since the late 80s. Companies such as Toll Brothers, Princeton University, and MGM Grand trust us to make their prints look their best at any size. Posters, outdoor banners, trade show graphics, billboards, we've done it all. We pride ourselves on delivering quality over quantity, with experienced, expert technicians. We not only know the equipment, but know how to optimize a file to be the best it can be. We don't just push a print button, we work with you to make sure your image is right for the size and material you need.
In addition to a talented staff, we offer some of the best equipment to achieve your large format needs. Not just on paper, but materials such as canvas, vinyl, plastic, metal, glass, and leather. We don't shy away from investing in the latest and greatest equipment that deliver unlimited options to our clients. Each one of our machines has a specific use, as shown below:
Canon Arizona 350 UV Flat Bed Printer
Uses a unique UV process; ink solidifies on top of the material.
One of the few printers that can print photo quality images on just about any flat, rigid material up to 4'x8′
Prints on almost any type of material, such as paper, vinyl, metal, glass, plexi, foam core, paper, wood, mesh, canvas, leather, and many more materials
Prints on flexible roll material up to 84″ wide by any length
Weatherproof UV inks makes this perfect for outdoor banners and billboards.
Also prints on irregularly shaped objects
Unbelievable 6-color quality. Also prints opaque white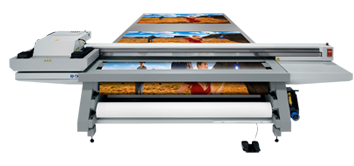 Epson Stylus Pro 9900
Very high quality large format prints, at a reasonable cost
Uses a new, 11-ink, Epson HDR Ink system for amazing color quality and accuracy
Multiple black and grey inks deliver the best in black and white art prints on a multitude of papers
Used for a magnitude of output types that rely on maximum quality, from fine art, to press proofs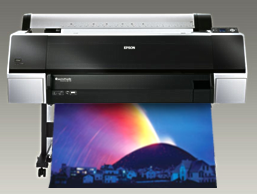 Chromira 5X 50″ Digital RA4 Printer
Produces amazing, near continuous tone full color prints; top rated by all of the industry's top publications.
Uses specialized LED print imaging technology, not traditional inkjet.
Prints on roll paper or film at 50″ wide and up to 164 feet in length
We use Fuji Crystal Archive for the ultimate in photographic reproduction.
Also prints on photographic and back-lit display films
Better suited for indoor graphics and photos that require the best possible quality, as well as back lit panel displays for retail or trade shows.
Not sure which process is right for your large format job? Give Taylor Photo a call, and we'll recommend what's right based on your needs and expectations.
Are you a photographer who needs BIG enlargements? Just click on the link below: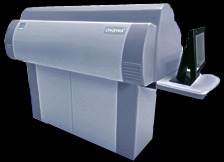 Quality Control from file to assembly: The Taylor Photo Difference
At Taylor Photo, we go the extra mile to assure that your prints look their best, even after the print is made. We offer a full range of mounting, assembly, encapsulating, and other production services to make your large print ready for action. Whether it's outdoor signage or a major product display, we make your image look its best.